The good life in Trestaden - the Polish Riviera
Delicious food, exciting history and luxury hotels. And here are three of Poland's very best golf courses! A golf trip to the Trestad area Gdańsk - Sopot - Gdynia has all the prerequisites to be successful.
The three-city area with the cities of Sopot, Gdańsk and Gdynia offers miles of beaches, hotels, spas, shopping, cozy cafes and restaurants and golf. Most for half the price compared to at home. The three cities have over the years almost grown together where they are in a row along the coast with about 20 minutes drive in between, but there is still some difference between what they offer.
Well stocked stores

Gdynia is a nice port city with a centrally located beach. It is the city for you who want to shop - either in the Center Riviera with just over 270 shops or in the Orlowo district with many charming small shops. The shops along the pedestrian street Swiettojanska and in Hala Targowa (market halls) are well stocked. Most well-known clothing brands are found here and are significantly cheaper than in Sweden. The same goes for almost everything from crockery, jewelry and garden tools to glasses and eye exams. But the really big clip is for those who are going to renovate the apartment, villa or summer cottage. A trailer might be a good idea!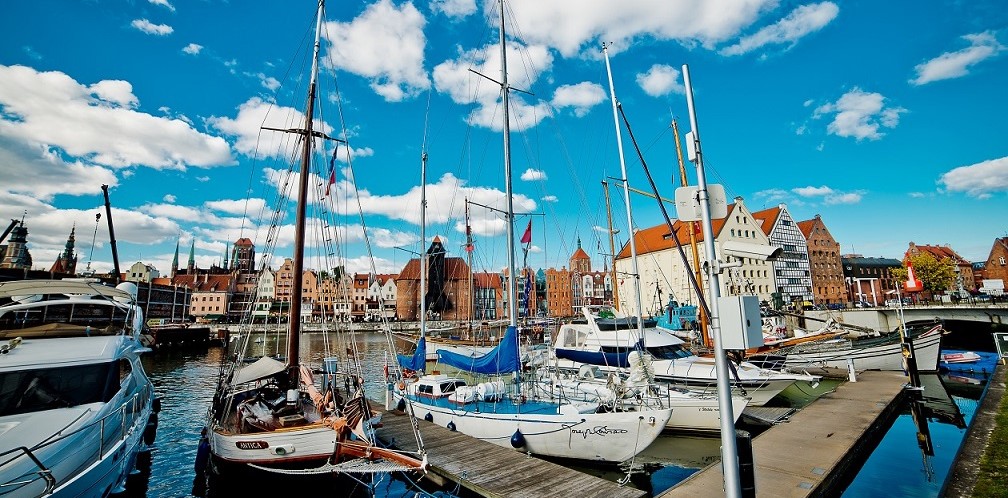 Gdańsk is a historic Hanseatic city, which for most of its history was mainly known by the German name Danzig. Here in the old trading town, Polish contemporary history has been written. This is where the Solidarity Movement was born, led by the mustachioed Lech Walesa, and where the disintegration of communism began.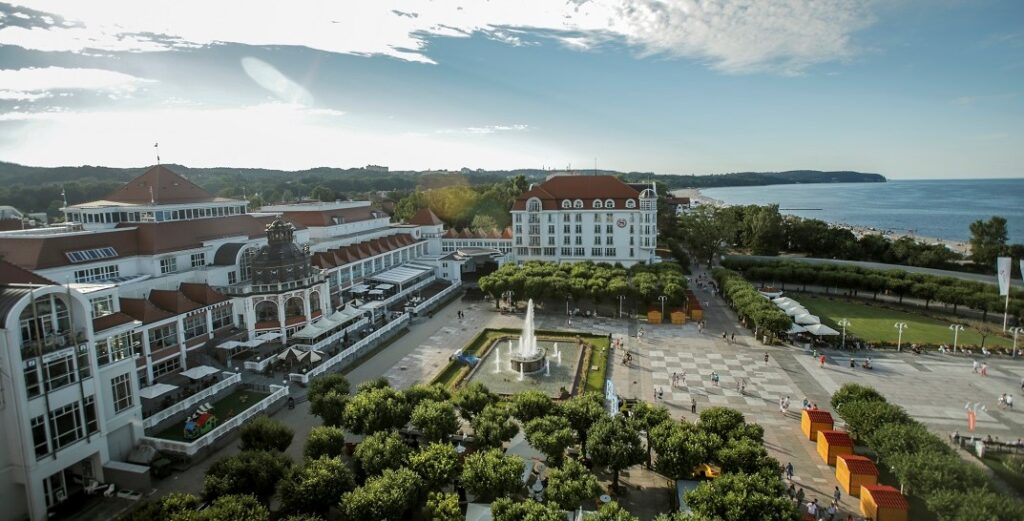 Sopot may represent the good life in the Trestad area. Sopot is Poland's luxury health resort and is sometimes called "Poland's Båstad" with beach paradise and late open pubs and restaurants. It is cozy and quiet, and I have a hard time imagining that there is someone who "washes" champagne here as in Båstad…
Europe's longest pier

Europe's longest pier made of wood creaks a little when we walk on the thick planks. It takes a while to get to the end of the pier because it is like a fairly long par 5-hole, 512 meters. But it is nice to walk on it and enjoy the view of both sea and beach with beautiful hotels and other buildings.

Once on the shore again, you can rent a bike and pedal along the water to, for example, Gdynia, where you can visit several large shopping centers, or to Gdańsk in the other direction, where Poland's history feels present. Both when you walk around the built-up city, which was bombed during the Second World War, but also at the War Museum or the Solidarity Museum.

Or you are happy with both shopping and history and head to the area's various golf courses. In the Trestad area there are three of Poland's best golf courses, one of them ranked as number one in the country.
Poland is a large country when it comes to the number of inhabitants, almost 40 million live here. But when it comes to the number of golfers, the figure is low 4711 registered players according to European Golf Associations (EGA) statistics.
This is good for us who like to play a lot of golf, because it means that the 39 golf clubs in the country have few members, which in turn means that you can most often play golf as on a private course - alone!


Poland's best course

Do you like to be humiliated by playing long courses where you do not reach several of the par 4 holes with the iron clubs but have to use a spoon or similar? Then you have come to the right place! Postolowo Golf Club is one of Europe's longest courses with 7100 meters from the back tee.
Jeremy Turner has designed a superb golf course here. Long, narrow and with tricky obstacles. I pass some balls with Swedish players. I can go past on one of the holes but there is a player left out along the fairway and waves that I should hit.
-It's just hitting. He's just a poor paint dealer, his playmates say, laughing out loud.
On the next hole I meet a 5-ball with Polish members. I can pass this one too. The course also offers a completely crazy insect life. All of Poland's flying, stinging and biting insects seem to have stuck around my golf cart to have this year's congress with accompanying supper…

Golf car by the way, it must have been tuned by the team behind Formula 1 driver Lewis Hamilton. It's the fastest golf cart I've ever driven! The first gas-to-bottom acceleration was breathtaking and I was about to fall off the car. Was it a disguised Tesla on the golf course? Postolowo has a Swedish connection more than with the Swedish acquaintance Turner. It was a man interested in golf named Matti Idman from Saltsjöbaden who, with Polish acquaintances, decided to start a course project right here, 50 km south of Sopot.
Mot Alcatraz!

The area was perfect for building a golf course. The land consisted mostly of self-draining sandy soil and the landscape was calm, peaceful, reasonably hilly and provided with a small lake in the middle.
The lake is the center of the course and around the water are the fourth, 16th and 17th holes where I think the fourth and 16th hole stand out the most. The fourth hole is a tough par 5 hole with the lake along the entire left side and a well-bunkered green. And the 16th, the course's best hole in my opinion, is a long short hole of 186 meters from the yellow tee. The hole is called Alcatraz and it's clear, you really did not want to stay there and above all did not stay… But on the 16th you can enjoy for a long time!
By the way, you can of the whole Postolowo, which is worth playing many times.
Complete golf resort

At Sierra Golf Club, I team up with a nice Finnish Swede, Linda Kokkila, who is a newly enthusiastic golfer with a good shot. She hits far, when she hits, but the balls do not always want to fly where Linda wants them to fly. The third player in the ball is Richard Lejderman, who helped start Postolowo, but who has been working to promote Sierra Golf for a few years now. What he does not know about golf in Poland in general and golf in Trestaden in particular is not worth knowing. In addition, he speaks Swedish!

We enjoy the fairly light and nice first nine holes. It's wide and nice and it's a fair warm-up for the much tougher final nine holes. Here the track shows a completely different face and requires you to concentrate.
When the course was built in 2002, there were only small tree plants in the tens of thousands, but these have grown and frame the holes in a way that is both technically interesting and also in a beautiful way. There are also picturesque footbridges and small gazebos along the course. And then also some rainbow-colored trees…

We like Sierra and I agree with our host, the sympathetic Mr. Lejderman, that Sierra is a really good golf resort that offers both a top class course, very good accommodation and a good restaurant.
-We are considering how to develop Sierra more, both in terms of the apartments and the various villas in Sierra Golf Park Villas, says Kamila Pieper, who is responsible for all accommodation at Sierra Golf Resort.
Restaurant and reception are located at Sierra's large (1000 m2) clubhouse around 100 meters from the apartments. The clubhouse has a coffee bar, two bars, restaurant, library, pool table and a large terrace. The restaurant is good, with several traditional Polish dishes such as duck, and the food offers a good selection of wines.
Finnish temptations

Irishman Paul O'Connor works as marketing manager at Sand Valley Golf Resort about 100 km from Gdynia. His Polish-born wife made him move to Poland.
-Poland is a really good golf destination. Few players on the courses and have generally seen a long season with courses in good condition. The price level is also significantly more advantageous compared to Sweden, he says.
In Sand Valley, a golf-mad Finnish family has invested a lot of money in building a really good golf course and a number of luxurious villas. The resort covers an 80 hectare area. Here are modern, luxurious Scandinavian designed villas with 4,6,8 and 12 beds with a total of 120 beds. The newly built villas maintain a very high standard. Of course there is also a sauna in the villas…
Exciting holes

Finnish railway architects Lassi Pekka Tilander and Tony Ristola designed and built something as unusual as an inland link railway. The holes are exciting, the fairways are usually generous, and there are large waste areas with sand around the fairway. The course is not entirely easy to master and a couple of laps are needed to feel comfortable. There are of course several challenges. Hole 3 is a short par 3 hole just outside the villas' pools. It is like a "loaf" on the green and water on the left. The "loaf" is difficult to handle. Pairs are good despite the short length of 115 meters. There are also some tough par 5 holes, such as hole 12 at 476 meters.

Overall, Sand Valley is really nice to play and we like the challenges and the sometimes slightly different holes. Of course, there are few players on the field, we are in Poland, so a round goes fast.
We then enjoy the superb food in the clubhouse and in the Finka restaurant, where the staff, who seem to be on their toes all the time, also contribute to the wonderful experience. And the accommodation is of the very highest class with its own pool to the larger villas.
Playing golf in the Trestad area can easily become a habit!


GOLF COURSES IN TRESTADEN
Postolowo Golf Club
Number of holes: 18.
Green fee : 650-725 kr.
In short: Postolowo is ranked as Poland's best golf course. It is also one of Europe's longest golf courses from the back tee with over 7100 meters. If you like difficulties and challenges on a course in an impeccable condition and condition, you have come to the right place.
Distance: Gdynia 50 km, Gdansk 26 km.

Sand Valley G&CC
Number of holes: 18.
Green fee : 650-760 kr.
In short: a finely owned facility that can be described as an inland link with wide fairways and difficult, undulating greens. Very friendly staff here in something that can be called "Suomi Valley".
Distance: Gdynia 110 km, Gdansk 80 km.

Sierra Golf Club
Number of holes: 18.
Green fee : 725-900 kr.
In short: The atmosphere at the facility is a bit of an elegant club with a dose of luxury and a hospitality that welcomes everyone. The course follows a rolling landscape with artificial lakes. The last nine holes are the best.
Distance: Gdynia 28 km, Gdańsk 50 km, Gdańsk airport 40 km, Sopot 35 km.
Travel there

Direct flights to Gdansk with SAS from Stockholm Arlanda, or with Wizz Air from Skavsta, Gothenburg Landvetter Airport and Malmö Airport. Polferries has a ferry connection between Nynäshamn and Gdańsk that takes 19 hours, while Stena Line operates Karlskrona and Gdynia, a journey of just over 10 hours.
Sizes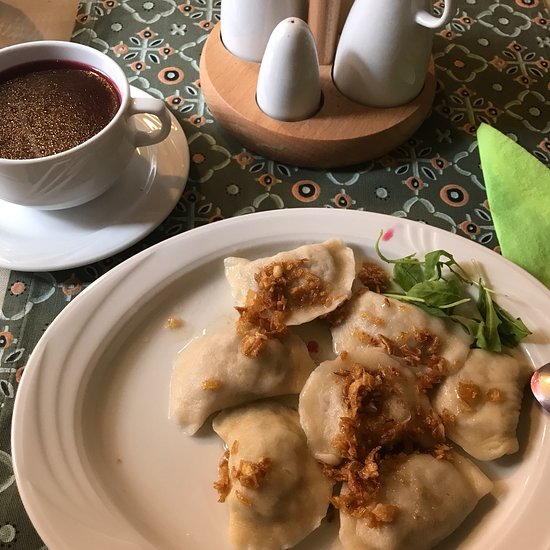 In the past, Polish cuisine was known for being plentiful and rustic. That is no longer the case. Sure, you can get large portions, but the new Polish cuisine is characterized by finesse and innovation. A classic in Poland is "pierogi", or Piroger, which are steamed dumplings with different fillings. These pierogi can, for example, be stuffed with meat, cabbage, spinach, mushrooms or potatoes.
The best restaurants are:
Accommodation

Hotel Stay Inn, Gdańsk
It is a cozy 4-star hotel with a superb location opposite St. Mary's Church in the center of Gdansk. The entire city offer is on the doorstep!

Sand Valley Golf Resort
In Sand Valley there are several wonderful and lavish and luxurious villas with saunas (of course!) Where you can stay up to 12 people in the same house. Of course, the largest houses have their own pool. Different packages, stay-and-play, are offered.

Sierra Golf Resort
At Sierra there are two accommodation options; partly in newly built and very fresh Sierra Apartments with 1-3 rooms per apartment and garage in the basement or in similarly fresh Sierra Golf Park Villas, which are 3-room villas with their own entrance and pool.

More than golf

There are several large shopping complexes in the area; Galeria Baltycka in Gdańsk (www.galeriabaltycka.pl) has over 200 stores, Centrum Riviera in Gdynia (www.centrumriviera.pl) is to be northern Poland's largest mall with around 270 stores and Klif in Gdynia has around 100 branded stores.
Poland has had a dizzying history. On the Westerplatte peninsula off Gdansk, the first shots of World War II were fired early in the morning of September 1, 1939, when the German battleship Schleswig-Holstein began its bombing.
The Solidarity Movement (Polish: Solidarność) was also born in Gdańsk from the great shipyard strikes of 1980 at the Lenin Shipyard. The strikes were crushed by the Russian and Polish military with much force. Solidarity was led by shipyard worker Lech Walesa and became the beginning of the collapse of Polish communism nine years later. Lech Walesa eventually became President of Poland and received the Nobel Peace Prize. A visit to the fascinating, and gripping. The Solidarity Museum (www.ecs.gda.pl) in Gdansk is highly recommended regardless of political opinion.
Europe's longest wooden pier is located in Sopot. The Molo pier is 512 meters long and offers wonderful views of the sea and the beach with its cozy cafes and restaurants.
Sopots beach. In the middle of Sopot you will find a fantastic white sandy beach that is 4.5 kilometers long.
The old town of Gdańsk is lovely to walk around. Do not miss to peek into the world's largest brick church. Mariakyrkan, or Bazylika Mariacka as it is called in Polish, which is large enough to accommodate 25,000 people. It was built between 1342 and 1502.
FACTS "TRÓJMIASTO" - TRESTADEN
Where: Area with the cities of Gdansk, Gdynia and Sopot in Poland bordering the Baltic Sea.
Largest city: Gdańsk, about 460,000 inhabitants.
State : Parliamentary democracy.
Currency: Zloty. 1 PLN cost 2.61 Swedish kronor (2018-08-07).
Religion: Catholicism.
Population: Approximately 2.2 million in the entire Pomorskie region. About 40 million in all of Poland.
Language: Polish.
Timezone: GMT +1.
Major holidays: 1 January, Easter Day, Second Day Easter, 1 and 3 May, Corpus Cristi, 16 August, 1 November, 11 November (National Day), Christmas Day, Second Day Christmas.
Climate / golf season: Basically the same as in southern Sweden, which means year-round if it does not snow. High season is April / May and September / October and rainier in December-January.
Availability: High availability. Very quiet on all three courses.
By air: Gdańsk-Lech Walesa Airport.
By boat: Ferry traffic to Gdynia from Nynäshamn, Karlskrona and Ystad.
By car: Right-hand traffic, km.
Water: The tap water can be drunk. However, better with mineral water.
El: 220 V.
Visa: Not required.
Vaccinations: Check with your vaccination clinic.
Number of golf courses: 3.
Food & beverage : High quality domestic beer and vodka. Exciting food and innovative restaurants.
Other travel information: Rich history, many lakes and forests.
MORE INFORMATION
Polish State Tourist Office
www.polen.travel/sv
TEXT AND PHOTO: Johan Dahlqvist